SMART Goals – My Business Ran Out Of Money Now What?…Part 3
Question:  So what do SMART Goals have to do with you not finding yourself in a position to ask:  My Business Ran Out Of Money, Now What?

SMART goals in business can often make the difference between success and failure.
They help to get people focused, taking action and heading in the right direction.
Even if the smart goals are small and short term, they work just as well as larger, long term goals.
Using SMART Goals in business you are already halfway to reaching the goal that you desire.
How smart goals can be incorporated into your daily activities, weekly planning and yearly goals:
SMART goals are excellent ingredients for KPIs (Key Performance Indicators)
Smart goals can be any number of goals that you set for yourself to hold yourself accountable
When faced with an enormous project, smart goals can break it down to digestible pieces
SMART goals are a powerful way to reduce the stress of a huge undertaking
SMART goals are Specific, Measurable, Attainable, Realistic and Timely
If you don't have SMART goals in business for yourself, take the time to develop them.
Set smart goals for yourself and then develop steps to reach them.
It is more of the operational scenario of cause and effect in which you can utilize a target and achieve the SMART goals that result in better and improved outcomes.
Develop solid, SMART goals that align with the vision you have.
SMART goals may be your ticket to freedom.
Smart goals can be applied both to personal and professional life sectors, and their setting usually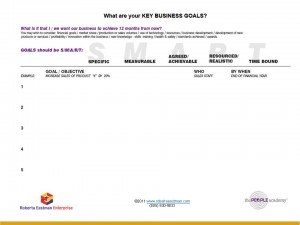 requires some basic steps to take
SMART goals for being accountable.
SMART goals for doing tasks that you are responsible to do.
SMART goals to have commitment to business you deserve.
The downloadable SMART Goals [infographic] and worksheet included in My Business Ran Out Of Money, Now What – Part 3 teaches you how to track SMART goals for yourself.
When your SMART goals are developed and given top priority, you can determine what research or information you need to successfully complete your objectives.
As you can see, using smart goals can help you really hone in on one goal and create a road map to get there, bridging the gap from where you are to where you want to go.
When you have a clear sense of what you want to get out of you business, and are honest about some of the risk factors, SMART goals can be created that will keep you motivated and moving forward.
SMART goals are essentially details of what you want, with metrics, milestones and measurable plans that have a deadline.
Answer:  To what do Smart Goals have to do with you asking My Business Ran Out of Money, Now What?
You can not manage what you do not measure via metrics & milestones
If you are not measuring in your business, your business is being managed without Smart Goals
Hence, Business Runs Out of Money!
What SMART goals can you create to help you leverage your focus, time and energy?
.
Share your Smart Goals in Business down below in Comments area. I will answer questions to help you clarify & define them as much as my energy & focus permit.
I Offer You A Gift…Register Once Below by Entering Your Name, Email & Creating a Password – Gain 2 for 1. You Receive Both Smart Goals In Business Infographic & Worksheet.
BONUS: Access to Additional Exclusive Membership Infographics on Blog! Subscribe to Download Now!
A comprehensive SMART Goals training can be found as part of my Customized Business Action Planning
p.s. Next Up…Free Audio to Download, sign up for early bird registration here, of Interview I'm doing at months end on Accountability – Responsibility – Commitment Part 2 of http://www.robertaeastman.com/arc/
p.s.s. If you have not read parts 1 & 2 of My Business Ran Out of Money, Now What? you may do so Part 1 and Part 2.
The contents of this article and/or infographic may be copied, reproduced, and freely distributed for all nonprofit purposes without the consent of the author as long as the author's name and contact information are included. Example: "Reproduced with permission from Roberta Eastman Enterprise. http://www.robertaeastman.com/blog www.selfemploymentgps.com/blog, Email info@robertaeastman (dot) com with questions or to request to receive additional business office management and support training.
Share this article- Knowledge Helps Everyone!